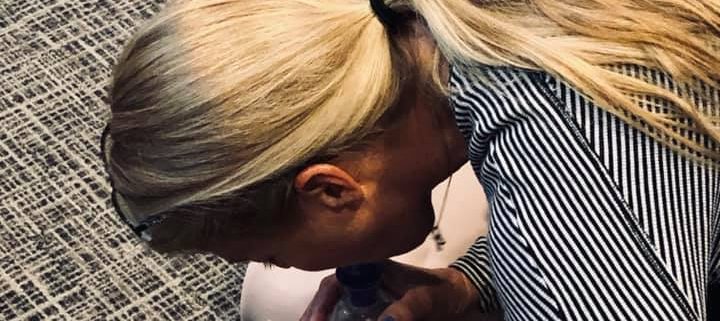 In an emergency, seconds matter. By knowing basic life-saving skills, like cardiopulmonary resuscitation (CPR) and how to use an automated external defibrillator (AED), could mean the difference between life or death for a loved one or a stranger. If CPR is started promptly, a person's chance of survival goes up drastically.
The Iona McGregor Fire District offers several different CPR classes to residents and businesses in our community. By attending one of the classes, you will leave feeling more confident and comfortable, if you are ever in a situation where help is needed. Our district offers a free program called Friends and Family CPR. We also offer Heartsaver CPR, a credentialed class through the American Heart Association (AHA), and BLS Provider, for a fee. All of our classes our taught by Iona McGregor firefighters, who are certified as CPR instructors. You will learn the skills needed to perform CPR for patients of all ages, how to use an AED, and how to help someone who is choking.
The courses all begin by answering the question, "Why do I want to know CPR?" As the AHA says, "life is why." For the Iona McGregor Fire District, it is our responsibility to protect lives. Through these programs, we are able to engage with our community to do just that.
CPR can assist someone's heart and/or breathing by doing just chest compressions or chest compressions with breaths. Just think about the difference you could make in someone's life if you learned how to perform CPR and use an AED.
According to the American Heart Association, more than 350,000 people suffer from cardiac arrest outside of the hospital. While this isn't the sole reason CPR would be needed, it is one of the major medical issues when CPR is administered.
Earlier this year, we learned a few of our past CPR class attendees, saved lives. A man saved his wife's life after she choked on a piece of hamburger. Another successful save was by a couple of residents at Majestic Palms Condominiums, a local residential community. A man went into cardiac arrest and nearby residents were able to use an AED to save his life. We were told that the reason they had an AED on site is because of a CPR class they took with our district. And, just recently, while on a cruise, residents with Indian Creek saved the life of an 89-year-old man who was choking on food and then went unresponsive. The Indian Creek residents started CPR immediately and saved the man's life. That man went on to celebrate his 90th birthday on the cruise and was back in the dining room the very next night.
These folks were able to take what they learned in one of our CPR classes and apply it to the emergency situation they were in. Because of their quick thinking and confidence in their abilities, these three people are alive and enjoying life today… and, we know there are many more!
There are a couple of communities in our district that have thought of a unique way to let their neighbors know who is CPR and AED trained. Communities, Indian Creek and Siesta Bay, give their residents red heart stickers to put in their home windows if they have taken one of our CPR classes. It's a way of knowing there is help in and around the communities when and if needed.
"Most cardiac arrests events happen out of the hospital and in public places.  By learning and using CPR,  you can drastically increase the chances of allowing someone to have more time.  That means more time to hold their loved ones, more time to see their children and grandchildren grow, and more time to celebrate life.  Learn CPR and help someone have more time." – Captain Brian Crisman, Iona McGregor Fire District.
"This CPR program saves lives and makes communities safer" – John Crowley, cardiac arrest survivor.

Always remember, CPR saves lives.
If you want to learn CPR or need to get re-certified or have a success story to share, please contact Megan Contreras, community relations and education coordinator, at [email protected].
https://ionafiredistrict.com/wp-content/uploads/2019/03/CPR-pic.jpg
960
720
Megan Contreras
https://ionafiredistrict.com/wp-content/uploads/2022/02/IMFD-Logo.png
Megan Contreras
2019-03-07 13:12:13
2019-03-07 13:24:31
CPR saves lives!